Hot Days Ahead, Records Possible
By: Jordan Frazier
Published: Jul. 26, 2021 at 4:18 PM CDT
CHEYENNE, Wyo. (Wyoming News Now) - Today was a hot day all across the state. Most, if not all major cities hit above 80 degrees with some places forecasted for triple digit temperatures. Clear skies around much of Wyoming today, in terms of rain and cloud cover, but lots of haze and smoke from the wildfires. This has prompted the National Weather Service to extend their air quality warnings and even expand them to the northern regions of the state as well.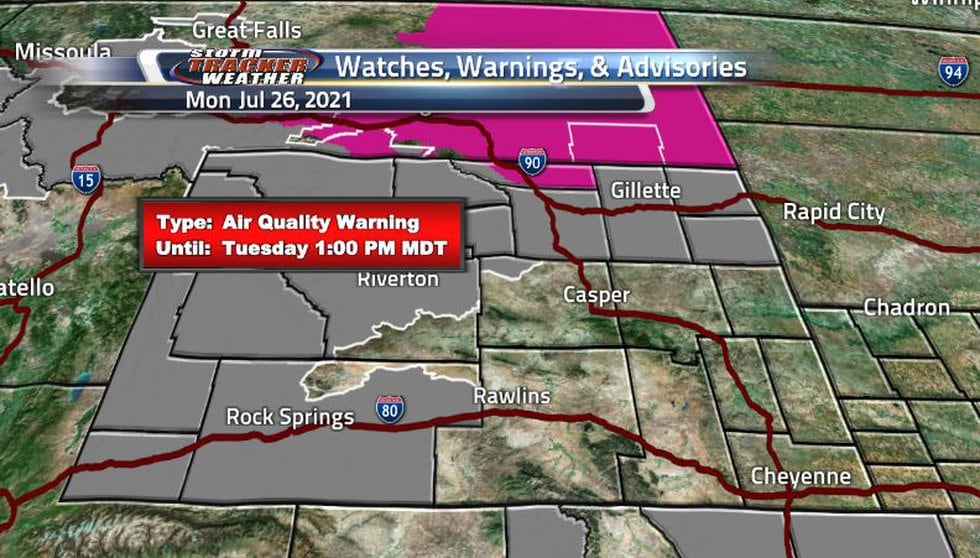 As the week goes on, much of the smoke is expected to move farther to the north affecting cities like Sheridan and Gillette the most. Rain is coming into the forecast for tomorrow, but mostly for the southwestern regions of the state. These showers will remain isolated and have little chance of being severe as the Storm Prediction Center has just a general thunderstorm risk in effect. Surface map is showing that stationary front sitting over starting to move as a cold front.
However, I don't see it moving too much in the future as the forecast shows it dissipating over the next few days. For tonight, clear skies besides the smoke and haze and slightly above average temperatures are expected. Most areas typically see those low to mid 50s, and tonight we can see those upper 50s and low 60s. Tomorrow, skies will remain mostly clear besides the southwest, leading to very hot temperatures all around and not sign of relief from any rain or clouds. A good chunk of the state can expect temperatures at or above 100 degrees. This threat will remain until the later parts of this week when we can expect lots of showers and thunderstorms.
Copyright 2021 Wyoming News Now. All rights reserved.