Nice Today, Storms Tomorrow
By: Jordan Frazier
Published: Aug. 12, 2021 at 8:17 PM CDT
CHEYENNE, Wyo. (Wyoming News Now) - The cold front currently trying to make it's way through the state made conditions very pleasant across much of Wyoming today. Temperatures stayed in the low to mid 80s for many regions and we saw clear skies with very little haze. In terms of warnings, only the north central regions of the state are under an air quality warning.
That is because the main wildfire smoke we are seeing is from southern Montana just north of Sheridan. After the passage of the front, the winds shifted and are coming from the northeast, moving the smoke down to the southwest, where the warnings are. Our new drought monitor came out today as well, and to my surprise, the drought situation got a little bit better in the southwestern corner near Evanston and Rock Springs.
Granted, we really need the rain, but it is nice to see that it didn't get any worse considering the lack of rain and hot temperatures over the past week. Speaking of rain, nothing to really talk about for today. There were barely any clouds across the state too. Tomorrow, however, will be a different story. This cold front currently sitting over us is forecasted to stall out into a stationary front and the low pressure system is expected to move down to the southeastern corner. We can expect some severe thunderstorms tomorrow afternoon as a result. The Storm Prediction Center (SPC) has a slight risk for the southeast with the possibility for large hail, strong gusts, and even an isolated tornado.
We will be sure to keep you informed tomorrow as these storms develop and turn severe. Looking toward tonight, we can see very nice conditions continue as a lot of the smoke and haze move out of the region leaving us with mostly clear or party cloudy skies and nice temperatures. Tomorrow will still be on the cool side, with temperatures expected to be even lower than today.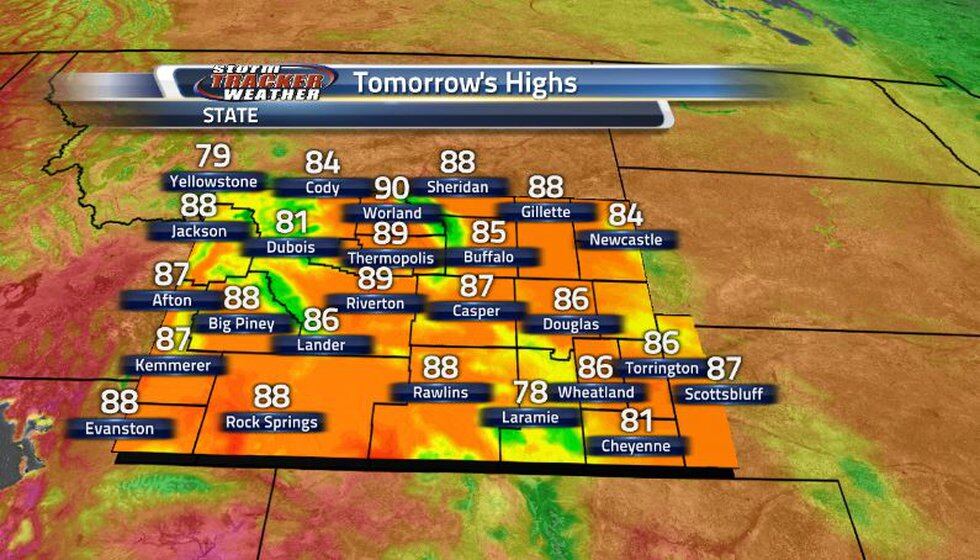 Still, the risk of severe storms is still there. Going into this weekend, conditions will begin warming up and the rain chances are back, but nothing on the severe side as of now. Just enjoy the nice weather that we are having today!
Copyright 2021 Wyoming News Now. All rights reserved.